Muscular New Fords for Sale in Oregon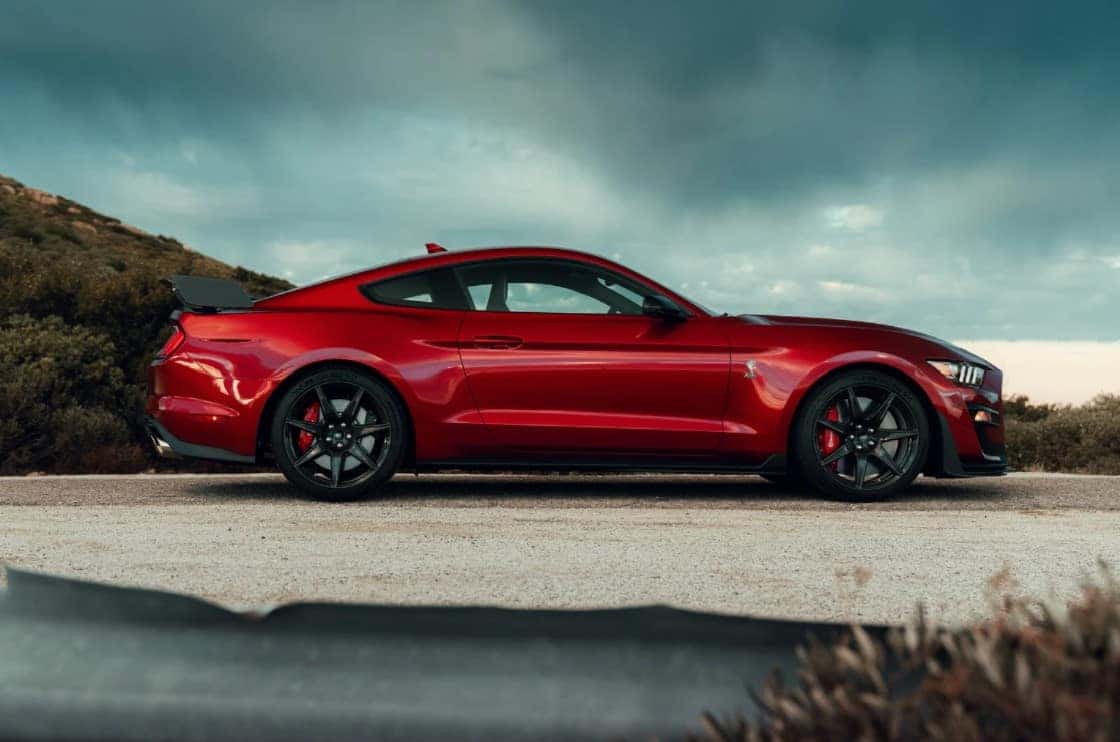 After nearly 60 years, the Ford Mustang is still a classic, class-act sports car, perfect for a weekend escape or to cruise the coast with the top down. The new Mustang, now for sale at our Ford dealership, is still the perfect sports car. Regardless of whether you want a conservative yet sporty ride, awesome power that will knock your socks off, or the instant turbo of an electric sports car, there is a Ford Mustang for you.
Sports Car with Many Trims and Options to Choose From
The Ford Mustang sports car comes with a large variety of trims and options – too many to mention in one place. Let's cover the basics with a few of the most popular trims:
The standard 310-hp EcoBoost, which sports a turbocharged four-cylinder engine.
The GT with a 450-hp 5.0-liter V-8 which comes with an optional active exhaust so the neighbors know when you're pulling into the driveway.
The Shelby GT500, a premier sports car and with an ultra-powerful 760-hp V-8 under the hood, with a limited number of editions that deliver over 900-hp.
The Mustang Mach-E, Ford's first electric sports car (EV) that can generate almost 500hp and goes from 0-60mph in an amazing 3.5 seconds!
Most Mustangs have more cargo space than their competitors and you can purchase most of them with an optional convertible top in addition to the option of a manual or automatic transmission. Most Mustangs can also come with several high-performance packages that offer premium tires, brakes, and handling options to make your Ford Mustang the ultimate muscle car.
Custom Order, Purchase Online, or Buy at the Ford Dealership
Feel free to browse our selection of new Mustangs in our new vehicle inventory, select the one you want to test drive, and then come into our Ford dealership at 344 Goodpasture Island Rd. Eugene, Oregon 97401 to check it out in person. If you live in Florence, Springfield, or Sweet Home, we're here to serve you as well. While at the dealership, value your trade and get started on your auto loan at our Ford financing center. You can also fill out our online car loan application if you'd prefer to prequalify for your loan. With as many trims and performance packages as the Ford Mustang has to offer, you may also want to custom order your ride directly from the factory to your exact specifications so you can get your Mustang with the exact trim and features that you want.
A third option is to purchase your new Ford sports car online through our Car Buying and Home Delivery program. Decide which Mustang from our dealership that you'd like to try out, and we'll bring it to you to test drive. Then, we'll help you fill out the paperwork. Once everything is good to go, we'll deliver your new ride to your doorstep within 100 miles of the dealership as well as pick up your trade-in.
If you have any questions about the Mustang, available trims and options, how to custom order your Mustang, or your financing options, please contact us online or give our sales department a call at (541) 393-2358. We'll guide you through the entire purchasing process and make sure you get the exact Ford Mustang of your dreams. Let us help you into the front seat of your very own Ford sportscar. Start the process today!