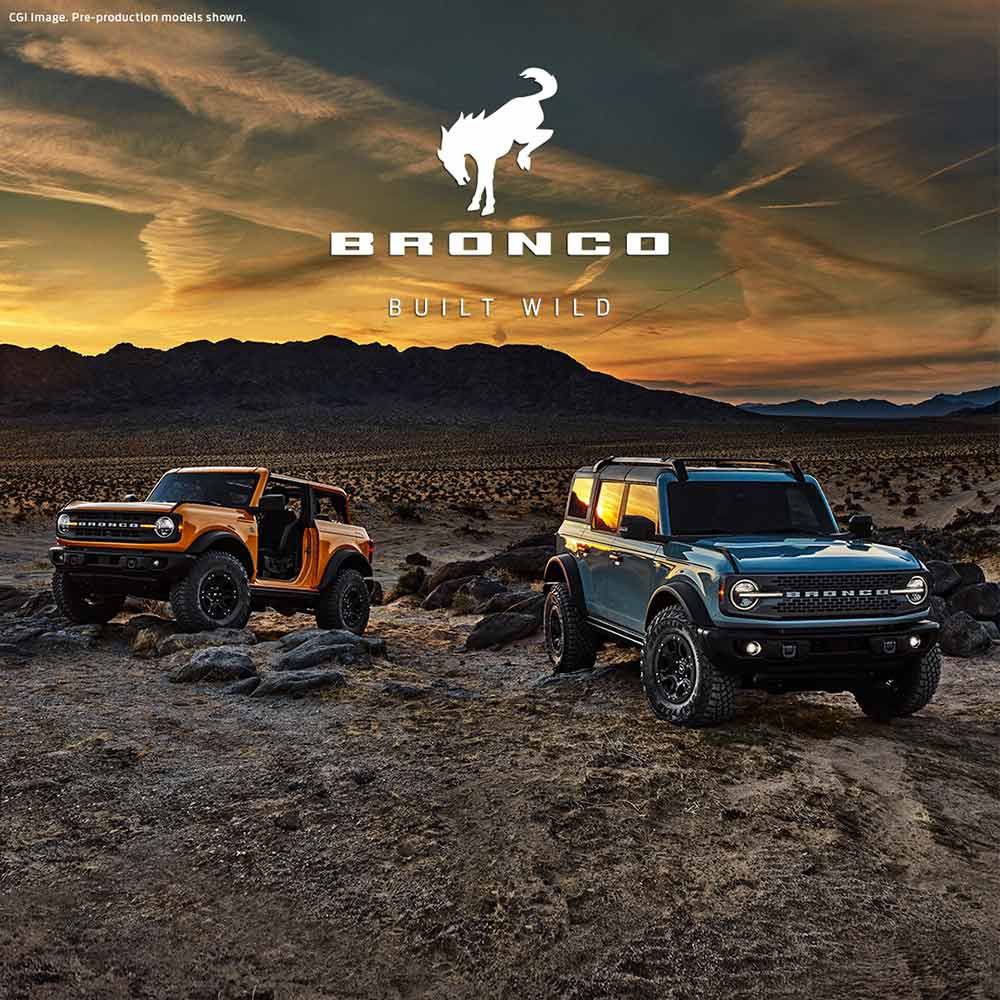 Do you recall  the iconic Ford Bronco and all of the history that came with it so many years  ago? Ford is now proudly re-introducing a new and improved version of the  amazing Ford Bronco in 2021. The Bronco was in production at Ford for  approximately 30 years - originally debuting in the year 1966. It was suddenly  discontinued in 1996, 30 years later, after sales on the Bronco didn't do as  well as some of their newer vehicles debuted. Before it was discontinued  however, Ford had sold more than 1.1 million Ford SUVs. Now, after nearly 25  years, Ford is announcing the new and improved
2021 Ford Bronco
, and you can drive yours home today!  Boasting exciting new exterior features, with extra torque and  horsepower, this new and exciting SUV is going to bring some diversity and  unique-ness to the Ford lineup. In addition to the classic and burly Ford SUV,  Ford will be producing its smaller sidekick - the Bronco Sport. You can find  all the Bronco SUVs at your
Eugene Ford Dealership
!
New Ford SUV  for Sale in Eugene
The
New Ford SUV for sale in Eugene
and Bronco Sport in Eugene features many interior, exterior  and engine features that are sure to impress all SUV buyers. With three  different types of grilles, including the modern, classic and custom, this new  Ford SUV for sale in Eugene is more customizable than ever, and perfect for  anyone's needs and desires, no matter your destination. The Classic  grille features similar design inspiration to the vintage models of the  Bronco SUV, with a hint of modern flair. The custom grille has a more premium and upscale look to it, making it unique among the other  two options. The modern grille is the standard fit for this  new vehicle. This iconic SUV features a turbocharged 2.3-liter  four-cylinder, similar to that of the 2.7-liter V-6 on the Ford F-150. With the  concern of the ability to do some serious off-roading, Ford designed the new  Ford sport utility vehicle to be capable of taking on the many terrains of Oregon,  making this the perfect SUV for your greatest off-roading adventures. With a  rugged look and feel, the tough off-road capabilities and style are sure to  attract the most adventurous and daring of drivers. With the idea to keep it  classic and iconic, the Bronco nameplate will be resurrected for the new  Bronco. Also boasting removable roofs and doors, this new Ford SUV for sale in Eugene has both two-door and four-door options. Find your next new
Ford SUV in Eugene
  and take on the rugged and ever-changing outdoors of Oregon in this adventure ready vehicle.
Ford Dealership Eugene
Due to the range of its customizability, the Bronco models has a wide selection of prices. Get pre-approved for a Ford car loan in Eugene today by  visiting our finance center and filling out a finance application. You can also  speak with one of our professional finance advisors.
Change the  name of the game with the new Ford sport utility vehicle for sale in Eugene.  Shop our selection of Ford cars, trucks, and SUVs for sale near you, or come in  and browse our inventory at 344 Good Pasture Island Road Eugene, Oregon 97401.  We also happily service Springfield, Junction City, and Cottage Grove areas. If  you need help with any part of the car buying process, please don't hesitate to 
contact us
, your
Ford Dealership Eugene
team. Our customer service  representatives will be happy to assist you with any of the new or used Ford models.